Services > Coloured Render
The benefits of using Monocouche renders far outweigh that of traditional plastering methods. Monocouche provides a low maintenance, waterproof, breathable, one-coat render that is now becoming extremely popular on private homes while also being used on commercial properties. These renders have been used throughout Europe for over 25 years and have an excellent track record. It is machine applied and is designed for one coat to a thickness of between 18-20mm and has excellent adhesion properties which means there is no need for scud or scratch coats.
Render Gallery


The one coat feature allows fast track application and short programme periods thereby reducing associated scaffolding and site costs, making groundworks available for completion more quickly. It also does not require any painting. Monocouche is a ready-mixed, cementitious, external render which provides a waterproof and durable solution, which can be applied to many substrates including masonry, natural stone and concrete. Factory produced from carefully selected raw materials for consistency of product, it only requires the addition of water on site.

The render is available in over 100 standard colours which allows you to choose almost any colour to suit your design and to compliment surrounding buildings. DMcL Plastering can provide you with a range of finishes for new-builds and refurbishments to suit any specification. See demonstration video below.
Advantages of Render:

• Fast Application

• Durable

• Low maintenance

• Breathable

• High quality of finished render

• No painting

• Less waste on site

• Accurate amount of material used

• Excellent Adhesion

• Waterproof

• High elasticity

Range of Finishes

• Scraped texture

• Roughcast texture

• Ashlar

Monocouche is designed to be weatherproof, with most rainwater dispelled by run off and 'bounce back'.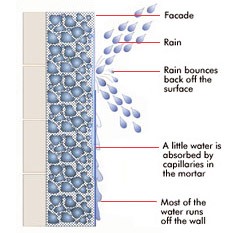 Monocouche is permeable to water vapour allowing building to breathe